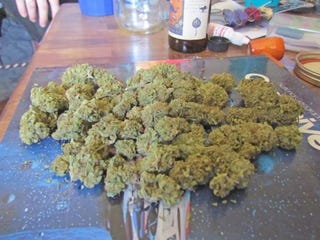 From the Grand Junction Free Press, Dec. 13, 2013
GRAND JUNCTION, Colo. - Monday, Dec. 10. A day that will live in... haziness?
Gov. John Hickenlooper declared Amendment 64 part of Colorado's constitution Monday after the Nov. 6 election results were certified by Secretary of State Scott Gessler on Dec. 6.
With various restrictions, Amendment 64 legalizes the recreational use, possession and cultivation of marijuana by individuals 21 and older in Colorado.
Does this mean you can roll up a doobie and take a stroll down Main Street? No.
It does mean that, in the privacy of your own or someone else's home, you could smoke marijuana. It also means that if you feel so inclined, you could grow up to six flowering marijuana plants in a locked and enclosed space on private property for personal use only.
The amendment still forbids the public use of marijuana, as well as its sale. Plus, individuals who choose to cultivate and harvest marijuana are not permitted to sell it.
Marijuana is still federally illegal, however. So, don't get too excited. You can still be charged with a crime by federal law enforcement officers, like the Park Rangers who patrol the Colorado National Monument.
U.S. Attorney John Walsh released a statement Monday which said, "In enacting the Controlled Substances Act, Congress determined that marijuana is a Schedule I controlled substance. Regardless of any changes in state law, including the change that will go into effect on Dec. 10 in Colorado, growing, selling or possessing any amount of marijuana remains illegal under federal law."
The statement also included an advisement to the public not to bring marijuana on to any federal property such as buildings, national parks, forests, military installations or courthouses.
District Attorney Pete Hautzinger said his office would continue to prosecute individuals cited for marijuana offenses which occurred before the law passed.
Mesa County did not vote in favor of the pot-legalizing amendment, Hautzinger said. He noted that a jury on the Front Range (where support for the amendment was higher) may be more inclined to find a defendant not guilty, even if Amendment 64 had yet to take effect at the time of the offense. Hautzinger said a jury in Mesa County may still feel differently.
While Hautzinger said he personally voted against the bill, he did say that "strictly from a law enforcement resource sense, 64 is a positive."
Hautzinger said he believes methamphetamine is a much more pertinent problem in the community. He wouldn't mind seeing law enforcement focusing more on issues surrounding that drug or any other crime that not only he, but the voters of Colorado, may have more concern with.
Currently, there is no driving blood limit for THC, the primary psychoactive component of marijuana, like there is for alcohol.
A new bill could establish a THC blood limit, however. In September, the Denver Post reported that State Sen. Steve King had once again sponsored a bill which would establish a marijuana-blood-level limit for drivers. The law would limit drivers to five nanograms of THC per milliliter of blood. The Denver Post also reported that Nevada and Ohio each have a 2-nanogram THC limit.
Senate Bill 12-117 "expands the existing definition of DUI per se to include driving when the driver's blood, urine, or saliva contains any amount of a schedule I controlled substance, except for tetrahydrocannabinols," the bill said.
King told the Colorado Mesa University Criterion that the goal of the bill is to "decrease traffic fatalities and injuries due to people driving under the influence of THC."
So, what would happen if you were pulled over under the law if it passes?
Hautzinger said if a police officer suspects that an individual is driving under the influence of THC, they would be taken to a blood-testing facility and have blood drawn, be cited for the DUI and then most likely released on bond.
He noted that blood samples must be sent to the State Health Department in Denver for testing, just as they are for DUI cases involving alcohol. At that point, it can take up to three months to get results back to determine an exact level of intoxication.