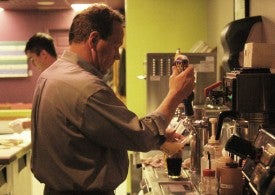 Published in the Criterion, Mar. 9, 2014
Photo by Brian Wise
At The Point last Thursday, an unexpected face was manning the taps behind the bar.
With sleeves rolled up, CMU President Tim Foster casually chatted politics with Joe Higgins, director of local youth services organization Mesa County Partners, as he passed a beer across the counter.
"He's doing incredible," Johnathon Olivas, a CMU pre-med student and lead trainer at The Point said. "He's pouring beers like a madman."
Foster is the latest surprising face behind the counter as a part of the Point's new guest server program, which aims to bring CMU faculty and staff to join the student pub's crew during their daily happy hour from 8-10 p.m. on Thursdays, with proceeds going to the guest's student club or organization of choice.
"We came up with different marketing segments," The Point faculty advisor Georgann Jouflas said.
The guest server program was one of the changes made to The Point after a J-term class was organized to bolster business practices and marketing for the establishment.
"The kids in the J-term class asked (Foster) months ago," Jouflas said.
The week prior, head cross country coach Gig Leadbetter joined The Point staff, with proceeds going to the track team, Jouflas said.
Avoiding playing favorites, Foster elected to have proceeds from his evening go to Partners.
"It's a good thing they know what they're doing," Foster said about his evening-only coworkers.
Foster thinks The Point is off to a good start and that, "It'll do better when we bring it across 12th."
Plans are currently underway to transfer The Point to the game room on the first floor of the University Center.
The president cited similar benefits in The Point that are seen elsewhere in student life, giving students a chance to experiment with different fields and professions, including personnel management at a restaurant.
"Sometimes you gotta find out what you don't want to do," Foster said about the occasional trial and error students can come across in various university extra-curriculars.
"It's a great way for that causal connection with people," Olivas said about the guest server program.
Upcoming guest servers include assistant art professor Jake Allee and vice-president of student services John Marshall.
"It's fun for people to come in and play store," Jouflas said.