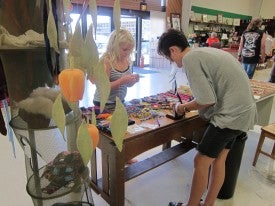 From the Criterion, August 26, 2012
Photo by: Jessica Nett
Downtown Grand Junction has a lot to offer the college student. There's a myriad of bars, restaurants, shops, concerts, gatherings, and art. But tucked behind Main Street on the corner of 7th and Pitkin lays a wonderland and concentration of the downtown essence.
Manager Sam Ordonz and his wife created the Grand Junction Flea Market and Swap Meet in May 2010. The couple, originally from Texas, awash with flea markets, rummage sales, and antique vendors, noticed a lack of the Flea Market atmosphere in the community center of Downtown Grand Junction. So they acquired the corner venue and opened up shop, a shop for other shops.
"It's not just a giant garage sale." Ordonz said.
Open every Friday, Saturday and Sunday from 9 a.m. to 6 p.m. the solar powered market boasts a high variety of shops. From a knife and outdoor utility counter, with a couple guns displayed behind, to a new sunglass outlet booth, Ordonz takes pride in the variety offered.
The market charges a modest fee of $150 a month for their smallest area, and anyone can set up shop. Some businesses, like RS Toys and Novelties, have become permanent residents, expanding in the last two years from a 10 square foot booth to a 600 square foot corner of the complex. Other booths might not stay as long, setting up shop for a month or two and then moving on. All costs for setting up are month-to-month, with no utility costs or overhead, and spots are always available.
"Every month something changes," Ordonz said.
Located near the center of the main building is Obed's Village Shop. Obed's has a wonderful collection of rustic antiques, used books and various other trinkets that could warm up even the stuffiest of homes. Owner Perry Peters read about the Flea Market in the newspaper, and was one of their first vendors.
"I had a bunch of stuff to get rid of." Peters said, "It wasn't as nice as the stuff I have now."
Peters gets his products anywhere he can, including yard and estate sales. "People bring stuff in, we make an offer. Sometimes right out of the back of their car."
The market is huge, with a large central front room and a back hallway with smaller shops, an American, indoors take on the Middle Eastern outdoor markets. There's a coffee shop where everything costs a dollar, right next door to a hair salon. The Man Cave and Thingy Room sit across the hall, an indoor junkyard with scrap metal, old machinery, and other rusty, unique and usually metal gadgets.
At the end of the hall is Moe Ping's Cool Things, which Ordonz casually referred to as "the hippie store." Moe Ping's takes the feel of Triple Play Records on Main Street a step farther. They have tapestries, incense, Grateful Dead and political tree-hugger stickers. Also available is a wealth of spiritual and holistic tools, Tarot Cards, astrology books, minerals and charms with metaphysical properties, essential oils and other meditative and spiritual products. Donna Holland, also known as "Ms. Moe," has owned and run the shop at various locations in Grand Junction, and has been with the flea market since it opened.
"(The Ordonzs) have been very accepting," Ms. Moe said. "They've offered us a space to do what we want to do, there's a lot of love."
The shop also does arts and craft classes and offers Tarot and palm readings.
Some of the newer vendors include a stereo and home security installation business, and a bike shop outside, specializing in tuning up used and worn out bikes into affordable vehicles.
"We happen to be across from a place that takes away people's drivers licenses," Ordonz said, as he pointed to the new police station across the street. Perry Peters was happy to show off his jet-black custom vintage cruiser bicycle, which cost him a mere $40 at the outside shop.
Even with the large operation Ordonz has organized, he has big plans for the future. The Flea Market's current front parking lot and entrance will be replaced by a larger new one in the back. The front lot will then be used as a space for new vendors, a stage for entertainment, as well as space for food vendors. A snow cone shack and Mexican food coach currently sit in the side of the parking lot.
"This is just our first baby steps," Ordonz said.
Ordonz highlighted the market as not only a place to get affordable, quality goods, but also as a place to hang out where food, coffee and Wifi are always available. For more information about the market, check out www.gjfleamarket.com.